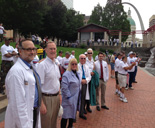 Who we are
PNHP Missouri was founded by six St. Louis area physicians in March 2012. It's quickly growing, and now reaches 3,000 people across the state. Read more.
---
Chapter Resolution
Are you a Missouri health care provider who supports single payer? If so, please read and sign our resolution now.
---
Donate
Please help us spread our message by making a donation today.
Click here to donate securely online.
---
Beyond the clear clinical, economic, and social imperatives for the USA to adopt single payer, there are multiple implications for freedom in the United States.
Click here to read.
---
PNHP Missouri has been featured in the local press, including the St. Louis Post-Dispatch, the St. Louis American and the St. Louis Beacon.
Click here to see what we've been up to!
---
Click here to see what is happening with single payer in Missouri.
---
Dr. Ed Weisbart presented the annual grand rounds on health care disparities at the University of Missouri Hospital and Clinics in Columbia, MO.
This discussion demonstrates the role of disparate access to insurance in shortening African American life expectancies, how the ACA attempts to address it, and how Medicare for All would be the best (and most prudent) solution.
Click here to watch a video of the presentation.
---
Gerald Friedman, an economist at the University of Massachusetts-Amherst, presented at Missouri State on March 13 as a part of a tour of Missouri.
Click here to read more.
---
Follow us on Facebook!
Please "like" and follow PNHP Missouri on Facebook! We have frequent updates, from pictures to op-eds and upcoming events.
---
The Case for Single Payer
Click here to learn more about single payer, national health insurance.
---